By Patricia Danflous
Twisting and shouting! Remember those days when you danced the night away or tried out the latest moves with friends after school?  What was good fun then is also a great way to burn calories, keep in shape and eliminate stress.
What's keeping you off the dance floor these days? Don't be shy, intimidated or worried about what your kids will say. Get up and dance for your physical and mental health. Group dance classes like Zumba GoldÆ, Aqua ZumbaÆ, Les Mills Body Jam, Samba, Waltz and traditional Ballroom Dance allow active older adults to enjoy the social side of group fitness and benefit from physical movement.
Instructors of Zumba Gold provide "invigorating community-oriented dance-fitness classes which provide modified, low impact moves and easy to follow pacing for older adults who love a healthy active lifestyle," according to agingcare.com.
If you are married or in a committed relationship, dance is a healthy activity to share with your partner; and if you are single, it is a great way to meet new friends. Additionally, you will learn a few new steps and styles creating a fantastic opportunity to use both your mind and body.
Benefits of Dancing for Older Adults: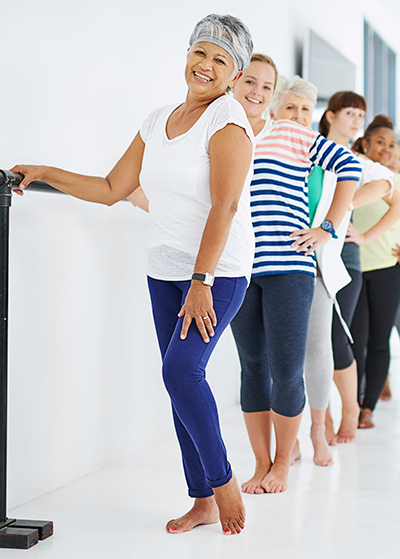 Dance Away Depression
Men and women with mood disorders who participated in a two-week tango instruction program in Australia felt less depressed, and experienced significant reductions in their levels of anxiety, stress and insomnia.
Salsa for Strength
Research indicates that several weeks of salsa dancing makes a significant impact on an older adultís strength and balance. Salsa dancing is not only fun, but also safe and easy to learn.
Soft Shoe Moves for Stiffness
According to a Saint Louis University study, dancing eases hip and knee pain, helping older adults move better. Jean Krampe, Ph. D., assistant professor of nursing and coordinator of the study states, "after dancing over several months, the participants in the study reported less pain and were able to walk faster." The findings are significant because older adults who walk too slowly are more likely to fall, become hospitalized or require care from others, Krampe said. "Walking just a little more rapidly can make enough of a difference for a person to get across the street more quickly or get to the bathroom faster, which keeps them functional and independent. In our study, those who danced didn't walk dramatically faster, but they had a meaningful change in walking speed."
Waltz for Your Heart
According to a study reported in Circulation, those with stable chronic heart failure may experience the same aerobic health advantages from waltz lessons and waltzing as they would from other forms of cardiovascular activity such as biking or walking.
Dementia Defense with Disco
A 21-year study led by the Albert Einstein College of Medicine indicates that aging adults who danced regularly had a 76 percent reduced risk for developing dementia. Experts suspect that dancing is beneficial because it combines cardiovascular exercise with split-second decision-making that taxes the neural network, forcing it to create pathways. Dancing is favored over other leisure activities when compared to golfing, doing crosswords or reading, for example.
You Can Do It
Don't stop dancing if you have Parkinsonís disease, dementia, cancer, arthritis, asthma, or heart disease. Research shows that dance therapy is beneficial with an extremely low potential for risk.
Be sure to check with your doctor before beginning any vigorous dance programs if you have health issues or health concerns.