By Patricia Danflous
Then:
Take two aspirin and call me in the morning.
Now:  
Call me anytime and I will let you know what to do.
Consulting a physician is easier, quicker and more efficient than ever with the growing utilization of telemedicine, blending the comfort of an old-fashioned house call with 24/7 advanced technology. A two-way communication method between patient and healthcare professional, telemedicine takes place by way of telephone, smartphone, the Internet, and video systems. Patients can Skype or Facetime with physicians and therapists, for example, for in-depth discussion, diagnosis and treatment options.
Yes, there are telemedicine apps. And even better, health insurance plans are providing telemedicine reimbursements.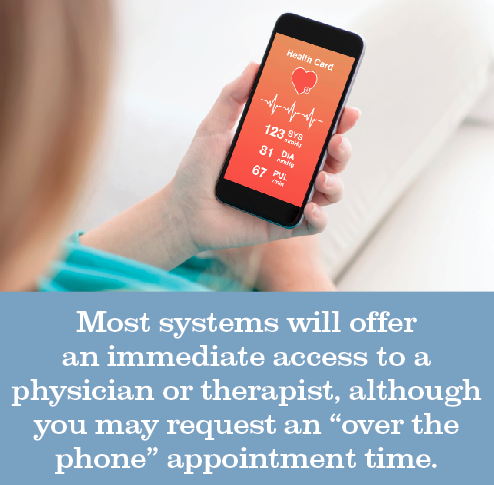 Introduced by hospitals more than 40 years ago to extend care to heart patients in rural areas, telemedicine recently expanded with technology advances and the demand for comprehensive, accessible quality care from any location at anytime of the day or night.
If you wake up in the middle of the night with uncontrollable vomiting; if you recognize symptoms setting in; if you are out of town and feel like you have the flu, telemedicine alleviates the stress of finding a doctor or waiting until the next day to find relief. Families living in rural communities or those who have difficulty with transportation are finding the service particularly beneficial. According to the American Association of Retired Persons Mississippi, telemedicine is making a difference in a state with a high physician shortage rate. Telemedicine is not only improving access to care for patients and caregivers, but also facilitating follow up and monitoring care.
To utilize a telemedicine system, the first thing you need to do is register, providing medical history for yourself and others in your family. You can do this online or by phone with the assistance of a service representative at your local hospital, physicianís office or national program, such as TeladocTM.  Setting up an account in anticipation of need, rather than waiting until you are under the weather, will not only save you time, but also make you feel more comfortable with the communication process.
When you need to talk to a doctor, pick up your phone and open the telemedicine app. Most systems will offer immediate access to a physician or therapist, although you may request an ìover the phoneî appointment time. Once you are connected, your online doctor will listen, ask questions and diagnose the situation, prescribing medication if necessary and advising you on follow-up procedures. Prescriptions are delivered electronically to a pharmacy of your choice.
Picking up that prescription is not as easy as the diagnosing process, however. Modern technology has yet to find a replacement for the drugstore delivery boy and his bicycle.
For additional information on telemedicine, contact your area hospital or family doctor and request information on coverage from your healthcare insurance carrier.