By Suzanne Fox
Lodging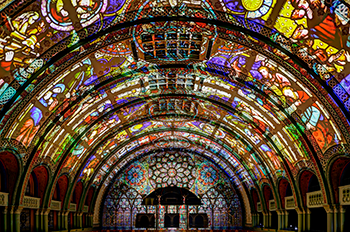 St. Louis Union Station, once the largest and busiest train station in the world, is now one of Americaís great marketplaces.  It first opened in 1894 but ceased operation in 1978.  It reopened in 1985 as the largest adaptive re-use project in the United States.
Today, the National Historic Landmark has been dramatically restored and redeveloped as a DoubleTree hotel.  The Grand Hall, formerly the main terminal, is breathtaking with stained glass and a 65-foot barrel vaulted ceiling.  With plenty of comfortable seating, itís a great place to mingle and watch the hourly 3D light display.
Book a room on the Executive Floor and enjoy complimentary hot breakfast, snacks and hors díoeuvres.  The station runs special train excursions at certain times of the year.
Attractions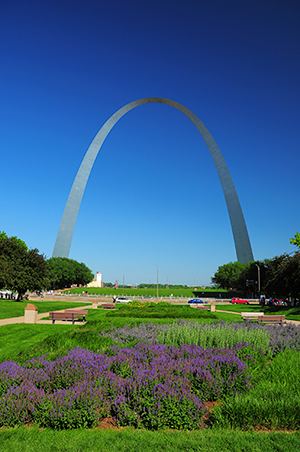 The St. Louis Gateway Arch is a must-see.  This is where a nation reached the great river and halted, staring into wide, wild lands. In St.
Louis, the United States ended and the wild began.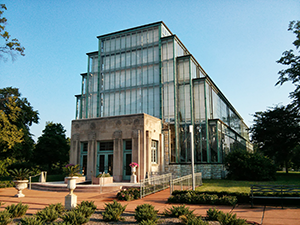 Forest Park is one of the largest urban parks in the United States.  In 1904, it hosted the Louisiana Purchase Exposition, which drew more than 19 million visitors.  It is home to the St. Louis Art Museum, St. Louis Science Center, St. Louis Zoo, Jewel Box Greenhouse, Missouri History Museum and Muny Theatre.  It features a 7.5-mile biking path, an ice skating rink and a lake with paddleboats and canoeing.
Photos: Union Station Grand Hall © 2016 DoubleTree; St. Louis Gateway Arch; Jewel Box Greenhouse in Forest Park © Mark Schierbecker; Union Station Stained Glass Light Show © 2016 DoubleTree
St. Louis Union Station Hotel 1820 Market Street, St. Louis MO (314) 621-5262 
St. Louis Convention and Visitors Commission (314) 421-1023