Pasta with Spinach, Garbanzos and Raisins
Serves 6 
Ingredients
8 ounces farfalle (bowtie) pasta
2 Tbsp. olive oil
4 garlic cloves, crushed
1/2 can (19 ounces) garbanzos, rinsed and drained
1/2 cup unsalted chicken broth
1/2 cup golden raisins
4 cups fresh spinach, chopped
2 Tbsp. Parmesan cheese
Cracked black peppercorns, to taste
Directions

Fill a large pot æ full with water and bring to a boil.  Add the pasta and cook 10 to 12 minutes until al dente (tender) or according to the package directions.  Drain the pasta thoroughly.
In a large skillet, heat the olive oil and garlic over medium heat.  Add the garbanzos and chicken broth.  Stir until warmed through.  Add the raisins and spinach.  Heat just until spinach is wilted, about 3 minutes.  Don't overcook.
Top each serving with sauce, 1 teaspoon Parmesan cheese and peppercorns to taste.  Serve immediately.
DASH-Style Apple Lettuce Salad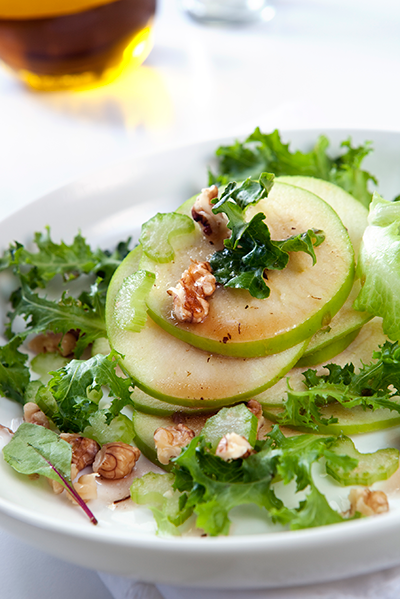 Serves 4
Serving size: 2 cups lettuce and 1/4 cup apple
Ingredients
1/4 cup unsweetened apple juice
2 Tbsp. lemon juice
1 Tbsp. canola oil
2 1/4 tsp. brown sugar
1/2 tsp. Dijon mustard
1/4 tsp. apple pie spice
1 red apple, chopped
8 cups mixed salad greens
Directions
Mix the apple juice, lemon juice, oil, brown sugar, mustard and apple pie spice in a large salad bowl.  Add the apple and toss to coat.  Add the salad greens and toss to mix just before serving.